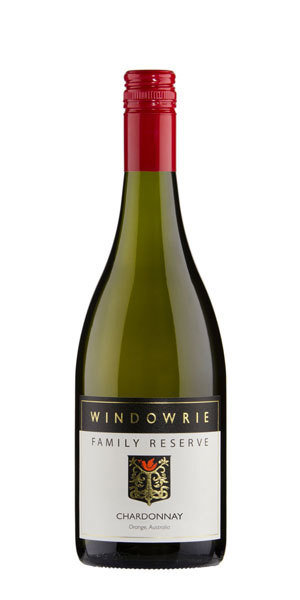 Windowrie Family Reserve Chardonnay 2019
SKU 00097
Product Details
The single vineyard Windowrie Family Reserve Chardonnay is made from grapes grown on Windowrie's home block. This vineyard, surrounding the homestead, was planted in 1987 at the time when Chardonnay was starting to make its mark in the Australia wine scene.

We have been making Cowra Chardonnay for nearly 30 years and have seen the evolution of the style since the early days when Rothbury Chardonnay was one of the highest selling white wines.
The Family Reserve Chardonnay is quite a flavoursome and complex wine. Aromas of white peach, white flower and grilled almonds are complimented well with seasoned oak spice and minerality. The palate is textural and refreshing, with underlying white peach flavours find their way to prominence in between oak and yeast complexities.
This wine is exemplary of Cowra Chardonnay's white peach intensity; to be enjoyed in moderation at any time.
REVIEWS & ACCOLADES FROM PREVIOUS VINTAGES
91 POINTS "Cool climate Chardonnay from the Cowra region here. It's a beautiful balance of peach stonefruit, lime citrus and flinty hints. The oak and gentle complexity aid length, ebbing along toward a conclusion. Unhurried, unforced, elegant."
THE VINSOMNIAC
17.5/20 "A modern take, with a balance of fruit and winemaking artifice. White peach stone fruit skin with lime citrus and fig richness with cedary, celery seed oak. It's about balance that's just achieved: purity of lime citrus making for a fine, fishbone like skeleton to stick richer stonefruit elements to. Finishing with a toothsome amount of grip, the oaky/caramel latte and nutty wheatmeal savoury components push this to big white meat food land."
Vinonotebook, Regan Drew, Jul 2019
90 POINTS "Chardonnay has been made by Windowrie for nearly 30 years at their Cowra winery. Winemaker Anthony D'Onise says he is, "Looking to produce a modern example of Cowra's most famous variety." He's ticked that box with this release. A citrusy driven wine, lemon juice fills the mouth with white stonefruit happily playing the wingman role. Some mealy and nutty characters sit calmly in the background but do enough to be seen. Some good texture with tangy lemon acidity and ginger nut biscuit spices riding long. Throw a roast chook at it. Drink now to five years."
QWINE, March 2019
"The winemaking team of Jason O'Dea & Anthony D'Onise have crafted another Family Reserve Chardonnay reflective of its terroir and elevage. It is rounded and well-balanced offering aromas and flavours in the buttercsotch / melon & citrus range It admirably toes the line between restraint and length as well as offering a tapestry of palate tingling acid and fruit elegance A very enjoyable and refreshing Chardonnay from the Cowra region which, whilst offering complex fruit liveliness and opulence now, will also reward some cellaring."
THE GRAPE HUNTER, Gilbert Labour, Apr 2019


9.1/10
DAILY EXAMINER, Max Crus 2019

"Bright citrus bouquet, lively palate with restrained, balanced citrus flavours and just a hint of spicy oak, leading to a very attractive finish. VERY APPEALING!!!"
WINE ASSIST, Dan Traucki, Mar 2019

"... I was immediately hooked. My palate certainly welcomed the mouth watering lemon and stone-fruit characters it presented. A smooth, creamy texture provided some good palate weight as it eased its way to a persistent, dry finish. There's a delicate touch of acid that suggests it won't hurt to let it cellar for a little while either. This is a very well made, nicely balanced Chardonnay that I could drink a lot of…easily!"
WORDS FROM A WINEGLASS, Mar 2019
"This dry white has been fashioned by winemaker Anthony D'Onise in a thoroughly modern style from grapes established in 1987 adjacent to the family company's headquarters near Canowindra in the NSW Central West. It's a lighter style of chardonnay, with figgy fruit flavours balanced by unobtrusive oak."
EGLOBAL NEWS, John Rozentals, Apr 2019
Save this product for later